MTC OFFERS MANY SOCIAL TENNIS ACTIVITIES:
SATURDAY HIT AND RUN CLINIC:
On Saturday morning one court is reserved for Social Drop In Tennis from 10am -noon. This is a FUN, fast moving doubles Live Ball drill.
All levels welcome!
SUNDAY DROP-IN:
Sunday mornings from 10am to 12:30 is hosted drop-in tennis.
This is a great way for new members to become known to other members, meet players at your level and have a great time. This is open to players at all levels.
Please introduce yourself to the host when you arrive.
FRIDAY NIGHT LIVE:
Hosted Friday Night Live Social tennis from March through October. The place to be on Friday nights is at MTC's Friday Night Live!
Check-in with the host when you arrive and you will matched with like players.
This is great way to meet lots of players, enjoy a themed dinner, specialty drink, could be dancing and in fun socializing.
Guests are welcome and guest fees are waived for these events.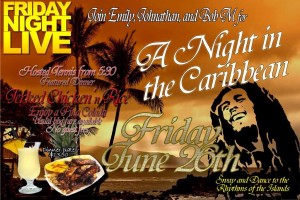 Sample of Friday Night Live Offering
Contact Us
THE MARIN TENNIS CLUB
925 Belle Avenue
San Rafael, CA 94901
Map & Directions
(415) 457-5160