Cafe Now Accepts THURSDAY NIGHT DINNER ORDERS for Pick-up or Eat in!! Dinners are $12 each if you order by Wednesday noon. THIS IS THE BEST DEAL IN TOWN!!
There are a limited number of on-demand dinners available 1st Come, 1st Serve priced @ $15 each.

Mouse-Over the menu "MTC Cafe" above or use the left navigation bar to place an order!
WELCOME TO THE TOP SPIN CAFE AND FOOT FAULT BAR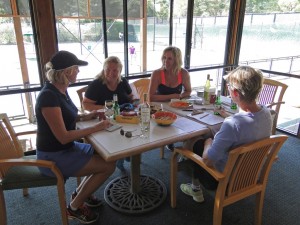 Cafe provides delicious breakfast, lunch, afternoon/evening menu, full bar and team platters. Everyone loves house-made soups, chili and Friday Spaghetti special.
Amazing Salads:
COFFEE & TEA SERVICE
Complimentary coffee, tea, lattes and hot chocolate.
FULL BAR SERVICE & SNACKS
Beer, wine, spirits, sodas and snacks are available.
BREAKFAST MENU
The Café's breakfast menu is served from 8:30am to 10:30am on Friday, Saturday and Sundays
REGULAR LUNCH MENU
The Café's regular lunch menu is available from 10:30am daily and features:
A variety of hot & cold sandwiches, Homemade soups, fresh salads, snacks, fruits, cookies & ice cream.
LUNCH SPECIALS
Each day the café features one or two of the members favorite special dishes!! Jose's fish Tacos and Spaghetti just to name a few!
AFTER HOUR FARE
Full after hour menu featuring Hamburgers, hot dogs, pizza, salads and more, Monday thru Friday from 4pm-9pm.
Dinner Specials on Thursday nights while they last!
TEAM PLATTERS
Available every day, please order before 1pm the 2 days prior.
CAFÉ HOURS
Monday to Thursday : 10:30am to 2:30pm
Friday, Saturday & Sunday : 8:30am to 2:45pm
Cafe Full Service Closed on Monday and Tuesday, Grab and Go menu available on those days.