WELCOME TO THE CENTER COURT CAFE AND FOOT FAULT BAR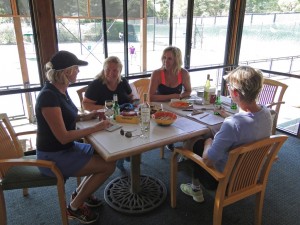 Cafe provides delicious breakfast, lunch, afternoon/evening snacks and team platters. Everyone loves Mauricio's soups and Friday Spaghetti special.
COFFEE & TEA SERVICE
Complimentary coffee, tea and hot chocolate.
BAR SERVICE & SNACKS
Beer, wine, sodas and snacks are available on a served and self-served basis.
BREAKFAST MENU
The Café's breakfast menu is served from 8:30am to 10:30am on Saturday's and Sunday's
REGULAR LUNCH MENU
The Café's regular lunch menu is available from 10:30am daily and features:
A variety of hot & cold sandwiches, soups from scratch, salads, snacks, fruits, cookies & ice cream.
LUNCH SPECIALS
Each day the café features one or two of the members favorite special dishes!!
EVENING SWIZZLES
Appetizers served Tuesday thru Friday from 3:30pm-8pm.
TEAM PLATTERS
Available every day, please order before 1pm the day prior.
CAFÉ HOURS
Monday to Friday : 10:30am to 2:30pm
Saturday & Sunday : 8:30am to 2:45pm
Rain Days : 10:30am to 12:30pm
Contact Us
THE MARIN TENNIS CLUB
925 Belle Avenue
San Rafael, CA 94901
Map & Directions
(415) 457-5160